We're happy to announce an update of Reason 12 Early Access in the Reason+ subscription! This update features the brand new Mimic Creative Sampler, updated graphics for the ReGroove Mixer - plus a number of bug fixes and improvements.
Mimic Creative Sampler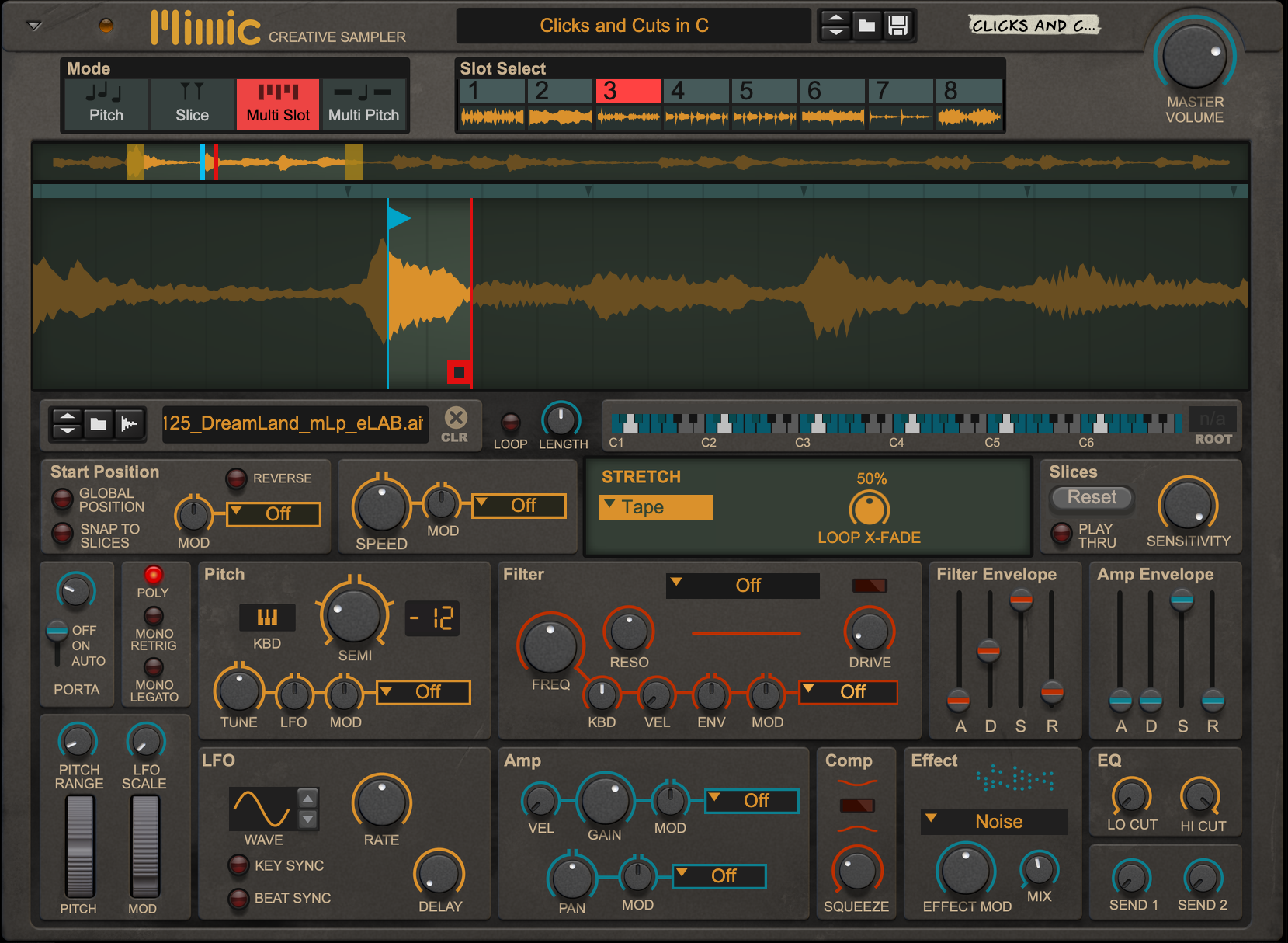 The Mimic Creative Sampler is a powerful yet very straight-forward sampler, tailor-made for quick and easy triggering, chopping and manipulation of samples. It features eight sample slots, where each slot can hold one sample. Each slot also has its own complete synth parameters setup, with pitch controls, filter, envelopes, LFO and effects.
You could either load a sample from your computer or sample straight into Mimic (Reason stand-alone only). You can then select various sample playback modes and high-quality stretch algorithms to manipulate and process the audio. You could also use Mimic as a traditional sampler and just play back samples in a regular "tape-style" fashion.
Mimic also features a great-sounding "lo-fi style" multi-effect to spice up your sounds even more.
Check out the Mimic video tutorial here!
Updated ReGroove Mixer graphics

The ReGroove Mixer now has updated graphics, to better fit in with the rest of the Reason graphics.
New functions
The latest Rack Extension versions now use hi-resolution graphics and all future ones are automatically built as hi-res.
Bug fixes
Significantly increased speed and stability when scaling graphics
Fixed a bug where intensely wiggling cables could lead to high memory usage
Fixed a bug where zooming would not refresh properly in some cases
Fixed a bug where the graphics would not re-draw when moved to a second monitor
Fixed a bug where VU meters could jiggle weirdly at certain zoom factors on Windows
Fixed a bug where the VST window would not display correctly in some cases
Fixed a bug where the automation indication rectangle was out of place on certain controls
Fixed a bug where Reason could crash when editing a .wav sample
Fixed a bug where multi-select in the NN-XT editor did not work
Downloading and installing Reason 12 Early Access
If you are already using Reason 12 Early Access, just click the Update button at the top of the Reason song window to download and install the latest update.
If you are new to Reason+, click the appropriate link below to install the latest version of Reason+ Companion, which includes Reason 12 Early Access!
IMPORTANT
While installing Reason 12 Early Access on a Windows computer, you may see a Microsoft Defender SmartScreen warning. Please have a look at this article for more information.